We are always available for custom designs and special events! Please contact us with any inquires or if you would like more information about our products.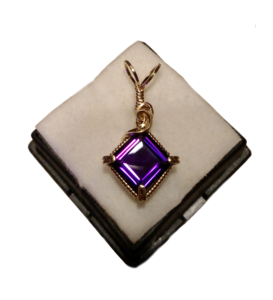 ​If you have a loose gemstone or cabochon that you would like wrapped in sterling silver wire and crafted into a beautiful pendant, or if you have an earring that has lost it's pair and think it would look great turned into a pendant, please let us know! We may be able to help!
We also make specialty gift items such as Suncatchers featuring high grade shungite beads as well as various gemstone and antique glass beads. Another fun novelty item we create are our "Prospectors" figurines that playfully show off some assorted natural gemstone pieces and micro crystals. We find that kids of all ages, as well as adults, really enjoy these fun and educational gifts.
Please contact us for ordering information and updates on upcoming shows or events that we may be attending.