Sterling Silver Wrapped Natural Gemstone Jewelry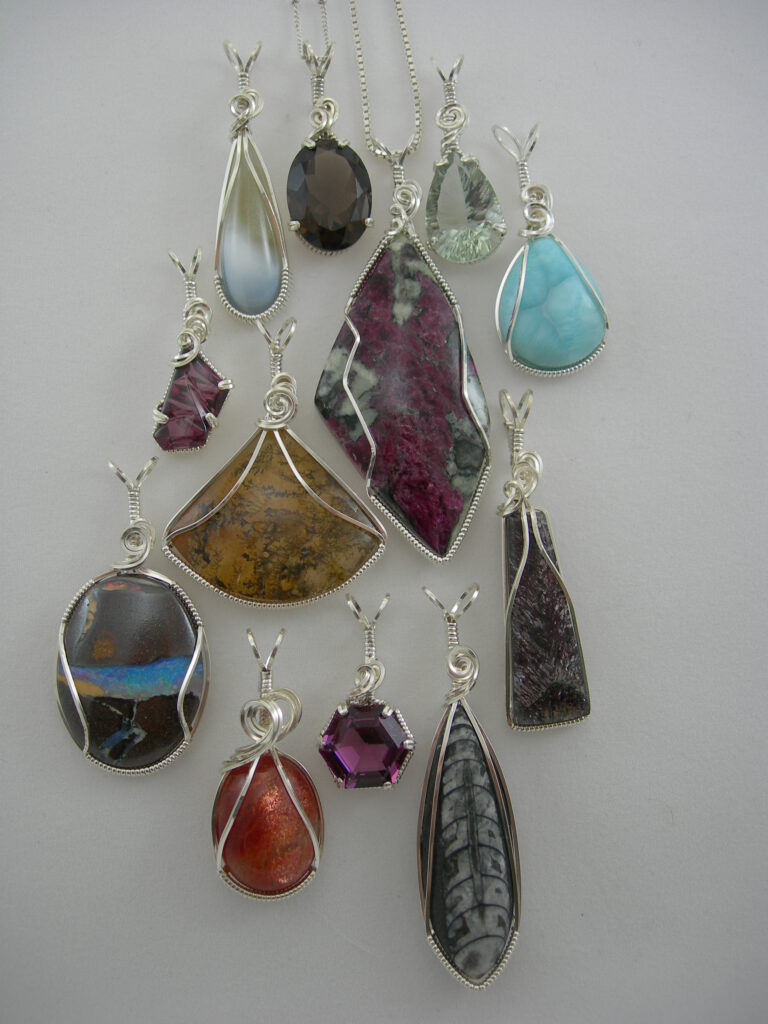 With a focus on natural gemstones and one-of-a-kind designs, the sterling silver pendants we create will catch your eye at first glance. All of our pendants are created by hand wrapping sterling silver wire around beautifully shaped natural gemstones, faceted gemstones, cabochons, crystals, minerals and fossils. Each stone is unique so no two will ever be exactly alike, reflecting your own unique character!
We only use the highest quality Argentium sterling silver wire in all of our designs and you'll appreciate the difference. Argentium sterling silver is at least 92.5% silver and is a combination of copper and germanium. Argentium sterling silver does not tarnish as quickly as regular sterling silver does.
Border wrapped pendants are crafted by wrapping sterling silver wire along the edge of the natural gemstone, crystal or mineral. Thus creating a design setting that exudes simplicity and elegance while showing off the gorgeous gemstone it cradles. Prong wrapping is also used to show off the elegance and sophistication of faceted natural gemstones. Using silver wire to create the prong setting always enhances the appearance and size of the stone it holds.
We also have earrings and rings available to coordinate with our pendants.Our designs make a great gift for all ages and personalities, as well as bridal parties and other groups. We will gladly accept your special orders to make your event one to remember!
Our designs feature hand selected, natural gemstones and minerals including:
Blue Topaz, Imperial Topaz, Clear Topaz, Red Garnet, Spessertine Garnet,Tsavorite Garnet, Rhodolite Garnet, Citrine, Amethyst, Ametrine, Amethst Druzy, Grape Amethyst, Iolite, Sunstone in Iolite, Sunstone, Black Sunstone, Larimar, Labradorite, Moonstone, Sugilite, Peridot, Tiger's Eye, Blue Lace Agate, Kyanite, Lapis Lazuli, Clear Quartz, Petroleum Included Quartz, Rose Quartz, Smoky Quartz, various Rutilated Quartz, Dendritic Quartz, Carnelian, Turquoise, Blood Stone, Dendritic Opal, Blue Opal, Australian Opal, Ethiopian Opal, Black Matrix Opal, Amazonite, Abalone Shell, Hematized and Pyritized Ammonite Fossil Shell, Aquamarine, Malachite, various color Sapphire, Star Sapphire, Moldavite, Chrysocolla, Emerald, Heliodor, Lepidolite, Azurite, Arizona Agate, Antarctic Agate, Fire Agate, Agatized Fossil Shells, Ocean Jasper, Bumble Bee Jasper, various Jasper, Zircon, Rainbow Obsidian, Snowflake Obsidian, Tanzanite, Magnetite, Pyrite Druzy, Ruby, various color Tourmaline, Fossil Pinecone, Dioptase, Charoite, Meteorite, Jade, Rainbow Hematite, Shattuckite, Rhodocrosite, Prehnite, Kunzite, various Natural Geodes and more!
Please contact us for ordering information and updates on upcoming shows or events that we may be attending.